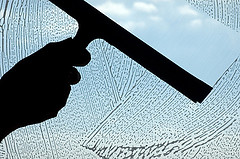 Wilt u ook schone ramen voor uw bedrijfspand of woning? Laat dan uw ramen periodiek door mij zemen. U bent gegarandeerd tevreden als uw ramen door mij zijn gezeemd. Uw ramen geven u weer een heldere blik naar buiten en een verzorgde uitstraling van uw woning of bedrijfspand, en hier zijn ze ook voor bedoeld.
Ik zeem niet alleen de ramen maar reinig ook de directe omlijsting van uw ramen. Zo wordt niet alleen de levensduur van het kozijn zelf, maar ook de levensduur van het schilderwerk verlengd.
Vooraf spreken we met elkaar af welke ramen gezeemd moeten worden.
Ramen zemen aan de binnenzijde is ook mogelijk.
Ik zorg altijd voor een eindresultaat waar u tevreden mee bent en dat tegen zeer acceptabele prijzen.
Woont u in Utrecht en wilt u ook schone ramen dan help ik u graag. Ook in Driebergen ben ik werkzaam, dus woont u in Driebergen en bent u op zoek naar een betrouwbare glazenwasser dan kunt u met mij contact opnemen.